Chief of Staff Colonels Visit UMAP Cohort 6 and 7 Students
04.04.14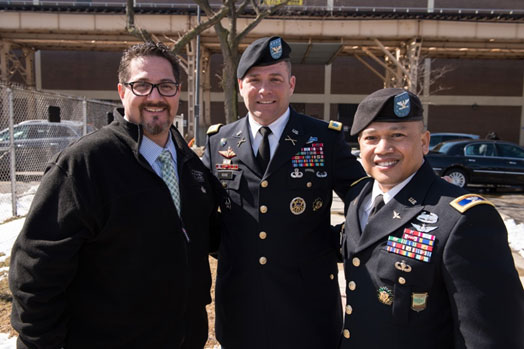 UMAP: Making Strides
With the UMAP program well into it's 7th cohort, UMAP Project Coordinator, Richard Passarelli (left), Special Assistant to the Chief of Staff and Director of the Soldier for Life Program, Colonel Adam L. Rocke (center), and Office of the Chief of Staff and Director (US Region) Soldier for Life Program, Colonel Allan H. Lanceta (right), gather together to discuss the program and its importance to the veteran community.
PARTNER AFFILIATIONS
With the help and support of City Colleges of Chicago, Mayor Rahm Emmanuel, Gov. Pat Quinn, Power for America, Illinois Department of Employment Security, Illinois Department of Veteran Affairs, Department of Commerce and Economic Opportunity, and the Utility Workers Union of America, the dream of supporting our military veterans has come true!
The training to placement portion of this program is also supported by Peoples Gas and Peoples Gas  CEO Will Evans,  where upon completion of a 6 month training, provide veteran students the  opportunity to apply for a 1 month paid internship that may grow into a potential life long career!
COMING HOME
When our veterans return from duty, they have a problem finding jobs that fit their specific skill set. It is hard to translate those skill sets  into a civilian job. Thanks to the hard work and dedication of fellow Navy veteran, Mr. Richard Passarelli, a training to placement program that supports our military veterans through their transition has been created.
Establishing the importance of this program to the students of Cohorts 6 and 7 was something Col. Rocke and Col. Lanceta wanted to accomplish with speaking to the students.
Col. Rocke is able to relate to the students as he discussed his military background and the situations that waited for him at home when he returned from duty.
WHAT UMAP MEANS TO OUR VETS
A program like UMAP, is established to help transition military veterans to civilian careers. This program enables students to translate what they learned on the field to every day civilian jobs.
PRACTICAL/TECHNICAL LAB
During the course of the 6 month program, students are brought into the lab to gain hands-on experience and learn from UMAP instructors who have over 100 combined years of experience in the gas industry.
Some examples of what students are taught in the lab:
  Meter Reading
  Gas Leak investigation
 Carbon monoxide   investigation
 Truck cleaning and stock
 Distribution, Transportation and Meter Shop Duties
Col. Lanceta and Col. Rocke get a tour of the practical lab.
Pictured from left to right:
Col. Lancetta , Col. Rocke, Dean Barnett of CCC Dawson Technical Institute, Richard Passarelli, and lead instructor Kevin Kearns of the UMAP Program
Students of Cohorts 6 and 7 listen Mr. Richard Passarelli.
Students of Cohorts 6 and 7 listen to Col. Rocke and Mr. Richard Passarelli.
"The UMAP and Peoples Gas program has been full of knowledgeable and great experiences that I would recommend to my fellow Veterans. I'm thankful for all of their resources." –  Don Purley (6th Cohort)
"1 Team 1 Fight" – Danny Sanchez (6th Cohort)
"It's worth it" – Ricky Robinson (7th cohort)
"This program is allowing me apply the technical skills that I learned in the military to the civilian world. It is also been helpful to me in the rough transition that most veterans face from military to civilian life. I'm going to class with like minded people that have served their country like I have."  -Joshua Parra (6th Cohort)
"The program officials actually care about our success and completion of the gas utility Program" – Cristobal Rangel (7th cohort) (not pictured)
Col. Rocke (left), Richard Passarelli (center), and Col. Lanceta (right), pose in the UMAP practical lab inside Dawson Technical Institute.
"The UMAP program is about giving a hand up not a hand out. It is designed to help our Vets when they come back from serving our Country. All of the Vets that have come from UMAP have transitioned well into the workforce using the skills and training they learned while in the service. " – Adrian Dueñas – Vice President and Treasurer of Local 18007
" Richard Passarelli is a hard working and dedicated man. His push for supporting our veterans when they come home has made a great impact on not only the veterans but for people all over the country. Our veterans are able to get great Union jobs after their service to our country, which they deserve.  Local 18007 supports this program and Richard Passarelli's work to the fullest!" Timothy Jaroch – President Local 18007
RICHARD J PASSARELLI
BUSINESS MANAGER OF LOCAL 18007
UMAP PROJECT COORDINATOR
Richard Passarelli enlisted in the United States Navy in 1982, where he served 2 tours of duty 1982-1985, in combat theater of operations Beirut Lebanon and Bekaa Valley, with Naval Sea Bee Battalion 10 of International Peace Keeping force.
Passarelli has received the following awards.  Humanitarian Service Medal, Navy Battle "E" Ribbon second award special designation, Navy sea service deployment ribbon second award, and the Navy Expeditionary ribbon.
In 2003, Passarelli was recommended to become a National Safety trainer assigned to the UWUA safety training program under the Susan Harwood Grant. He continued in that roll until 2008, when he became the Midwest regional training coordinator for the UWUA under Director Develin. Passarelli started his Union career March of 2009, when he was voted into the UWUA National Executive Board. He currently represents Local 18007 and its 1000 members for a second term.
By action of the National Executive Board Rick Chairs the UWUA Veterans committee. Rick is a long time member of the American Legion and Patriot Guard riders and many more veterans' organizations.
COL. ADAM L. ROCKE
SPECIAL ASSISTANT TO THE CHIEF OF STAFF ARMY
DIRECTOR OF THE SOLDIER FOR LIFE PROGRAM
Colonel Adam L. Rocke was commissioned an Infantry Officer in 1990 and holds a Bachelor's degree from Florida International University, a Master's degree from the Army Command and General Staff College in Strategic Studies and a Masters degree from the National Defense University in National Strategy.
Colonel Rocke served in several operational deployments.  His service includes multiple tours supporting Operation Iraqi Freedom in Iraq and Operation Uphold Democracy in Haiti. Colonel Rocke currently serves as the Director of the Soldier for Life Program to the Chief of Staff of the Army.
His awards and decorations include the Bronze Star Medal, the Joint Meritorious Service Medal, the Meritorious Service Medal, the Army Commendation Medal, the Army Achievement Medal, the Good Conduct Medal, the Armed Forces Expeditionary Medal, the Korean Defense Service Medal, the Humanitarian Service Medal, the Ranger Tab, the Combat Infantryman's Badge, the Expert Infantryman's Badge, the Master Parachutist's Badge, and the Air Assault Badge.
COL. ALLAN H. LANCETA
OFFICE OF THE CHIEF OF STAFF OF THE ARMY
DIRECTOR, CENTRAL US REGION
SOLDIER FOR LIFE PROGRAM
Colonel Allan H. Lanceta is a graduate of the University of Louisville and was commissioned a second Lieutenant in the US Army Aviation Branch. He is a Kiowa Warrior OH-58D(R) Aviator with combat experience during Operation Iraq Freedom.
COL Lanceta has served in numerous Joint, Operational and Tactical assignments. COL Lanceta is currently assigned to the Office of the Chief of Staff of the Army as the Director of the Central U.S. Region for the Soldier for Life Program.
COL Lanceta's awards and decorations include, the Bronze Star Medal with Oak Leaf Cluster, the Defense Meritorious Service Medal, the Army Meritorious Service Medal with four oak leaf clusters, the Air Medal, the Army Commendation Medal with two Oak Leaf Clusters, the Army Achievement Medal, the Global War on Terrorism service Medal, the Global War on Terrorism expeditionary medal, the Iraqi Campaign Medal with two stars, the overseas service ribbon with two awards, the Kosovo Liberation Medal and the Army Service Ribbon.
SUPPORT OUR VETERANS!!
Cohort 6 and 7 students pose with Richard Passarelli, UMAP Instructors, and Col. Lanceta.
This story is tagged under: